While first impressions count, the aesthetic appeal of your gate shouldn't be the only factor you consider when deciding on the perfect gate for your home. Factors such as security, privacy, and convenience should be brought up beforehand as well. The decision process shouldn't be taken lightly. Gates are a vital element to any home and must be chosen meticulously. This blog will go over how to choose the best gate for your home.
Decide on the Material
Whether you're concerned about the security of your home, or the aesthetic appeal of your driveway, your choice in material will play a significant role with your gate. Driveway gates usually consist of the following three materials:
Aluminum – A great choice for modern-styled homes. These gates tend to have clean lines and are available in various colors. They're a durable and versatile choice and are rust-proof and maintenance-free. These types of gates are ideal for homeowners that prioritize the aesthetic appeal of their home.
Steel – Known for its solid and sturdy look, steel gates are a more durable option than aluminum gates. For homeowners that prioritize the security of their home, this choice in material is a great choice. The only drawback of steel is that it's prone to rust. However, with proper maintenance and attention, rust buildup can be prevented.
Wrought Iron – Homeowners that are going for an ornate-style gate, iron wrought is the classic material! This material is sturdy and can provide homes with a modern or traditional aesthetic, depending on the design.
Consider Whether You Need a Sliding or Swinging Gate
One of the most extant decisions you have to make when it comes to your gate is whether you need a sliding or swinging gate. While the answer may be more evident for some homeowners than others, this choice will play a big role when it comes to convenience. To decide on the perfect one for your home, you'll have to consider a few factors beforehand.
Sliding Driveway Gates:
Close and open horizontally
Use space efficiently and effectively
Useful in inclined driveways
Easy to install on a variety of surfaces
A more economical option
Can be easily opened with a remote control or keypad
A great choice for homeowners that are trying to maximize space
Swinging Driveway Gates:
Can be designed to swing out or in
Ideal for homes without enough width space for the gate to retract
Usually controlled with remote control or keypad
Works well on flat surfaces
A little more expensive due to these gates requiring more advanced operation mechanisms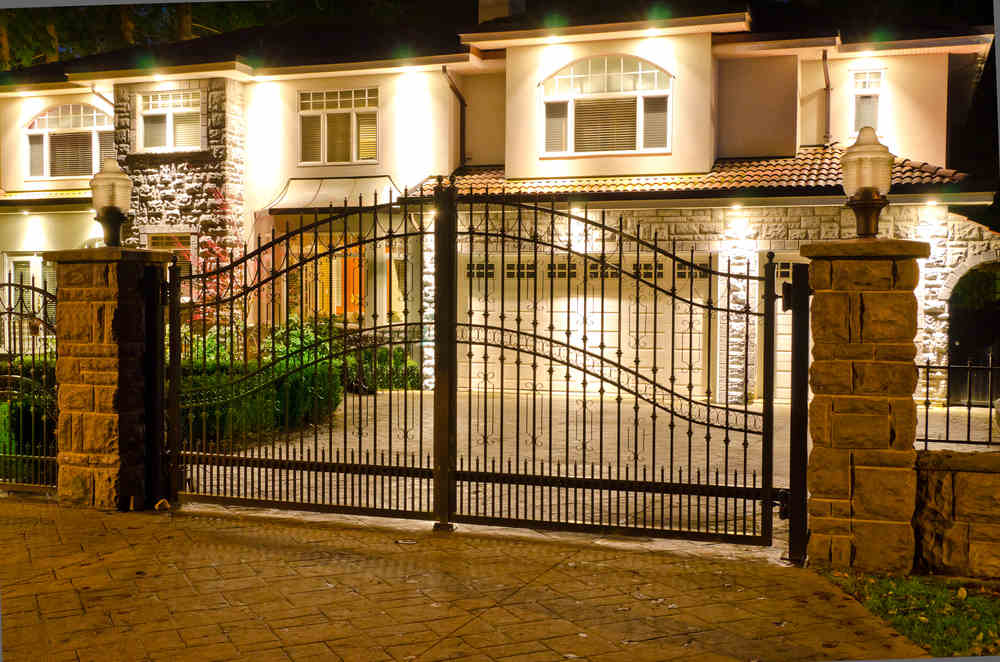 Select a Style That Suits Your Home
Another important factor to consider when selecting a driveway gate is its style. Your gate should blend in and suit the aesthetics of your home, along with the surrounding property. Choosing a style that doesn't coincide with your home can result in an odd look that doesn't seamlessly blend with the surroundings. The style of gate you select should enhance the overall look of your house, not diminish it.
Different colors and materials work well with different home styles and architectural features. So it's a good idea to explore what options will look best for your home. You can search images online and gather up a few ideas of gates that fit with your architectural style. Don't forget to think about whether you prefer a driveway gate that offers privacy, or one that enhances the look of your landscaping and home. There are a variety of styles to choose from, such as:
Tubular – Tubular gates range in design styles, such as simple and modern or highly embellished and fancy. This is one of the most cost-effective options.
Picket – This style is available in both swing and sliding driveway gates. This style offers a clean, classic look.
Stats – Similar to picket, except that the posts are horizontal instead of vertical. This style offers more privacy than tubular styles.
Security Gates – These gates are often constructed of galvanized steel. They can also include sharp embellished tips to deter potential intruders.
Gates are a vital element to any home. Whether your priority is superior security or enhanced home aesthetics, Access Gates and Doors can customize the perfect gate for your property. We hope this blog helped you see how to choose the best gate for your home. If you need assistance in selecting the perfect style gate for your home or are ready to start installing your gate, click here for a free quote, or give us a call at (858) 365-9480 for San Diego or (323) 244-2473 for Los Angeles.