If you've decided to add a roll-up door to your home or business, you may have a couple of questions. Are they secure? Can I customize them? Today, we'll go over 7 things to know about roll-up doors to help answer some of your questions and help you make an informed purchase! We're happy to say they are a great choice as they're incredibly functional, require little maintenance, and look great!
1. What is a Roll-Up Door?
Roll-up doors are used in both residential homes and commercial buildings. They open by lifting up onto the roof, either manually or with an electric motor. You can get them in many different sizes, shapes, and configurations. One of the most common roll-up doors is a garage door! While they can be designed in multiple ways, these types of roll-up doors are typically 3-4 hinged sections with the option to add windows in one or more of the pieces. 
2. They're Highly Secure & Durable
We put this high on the list because, of course, it's the feature that's on many business owners' and homeowners' minds. They're ideal for just about all climates, whether they're protecting against the heat, winds, or anything else Mother Nature can throw at it. In addition, they offer excellent security, which is a top priority for both commercial and residential buildings. Some businesses even use roll-up doors to cover their storefronts at night to protect against burglaries, graffiti, or damage.
3. They Come in Many Different Colors & Finishes
If you want to stand out or match the look of your home, you can get just about any color and finish on your door! We understand color customization is ideal for residential homes where the design is important. However, we should note that custom colors will come at an additional cost but is well worth it!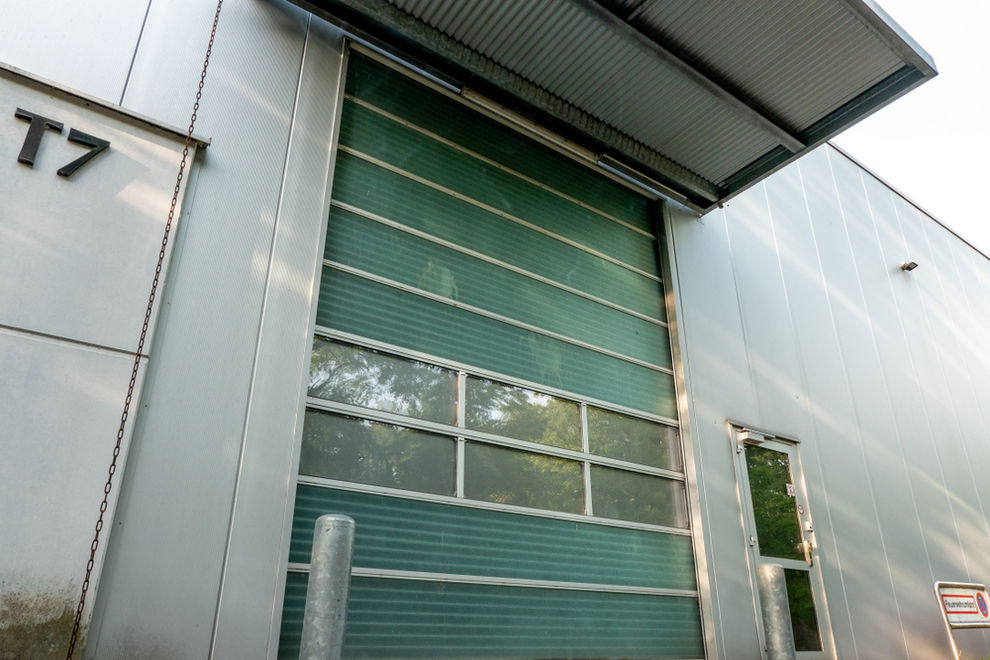 4. Replacing Damaged Pieces
Depending on how damaged your garage door is, it may be possible to replace only a section of the garage door instead of the whole unit. You can give us a call at (858) 365-9480 for San Diego or (323) 244-2473 for Los Angeles, and we'll evaluate your door and give you a recommendation. 
5. They Work With Limited Space
They're convenient for buildings where space is limited. Depending on the type of roll-up do you get, you'll only need around 4-6″ of minimum headroom space. The doors don't take up much room, allowing you to maximize the space inside the building, whether the door is open or closed. They even work in buildings with low ceilings!
6. They're Easy to Operate
Roll-up doors can open with a jackshaft operator or electric door operator. Each option makes the process of opening and closing the door quick, safe, and efficient. Get in and out of your building with the click of a button! Even if you choose one that manually opens and closes, they're designed to be easily lifted and lowered.
7. Roll-Up Doors Look Great
We understand that the door's aesthetic is an important deciding factor for both homeowners and business owners. It's why we offer multiple designs, colors, and finishes to make sure they look incredible. Whether you want to match the look of your home or make your business stand out, we can help create the ideal roll-up door for you!
Access Gates & Doors
We hope you enjoyed our blog about 7 things to know about roll-up doors and learned about their many benefits! If you want to find a team of commercial and residential door experts in Los Angeles or San Diego, Access Gates & Doors are here for you! If you want to learn more or have any questions, give us a call, and one of our team members will be more than happy to help. If you're located in Los Angeles, call (323) 244-2473, and for San Diego, call (858) 365-9480. You can also reach us by filling out the form on our website!